The bank search functionality enables any Painter to find the best color variant starting from a digital measurement.
Here are the steps you need to perform:
Go to the measurements page
Press the search icon on a measurement to perform a bank search. The best match will be displayed on top.
If there are no measurments on the page please read the manual on Uploading a measurement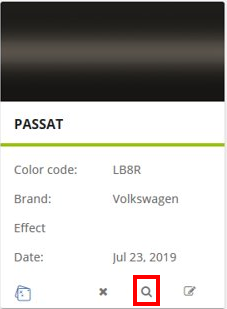 Color confidence:
The blue bar indicates the match grade. The fuller the bar, the closer the formula will be to the measurement.

​

Optimized candidates show a light blue part this resembles the color improvements achieved

by the optimization engines.
​
Bank search with all toners available in your country
​By default, the bank search functionality will find the best color matches taking into consideration all the toners available in your country.
The best match formula might show toners in red indicating that you do not have them in stock (like newly introduced toners or special toners). In this case, we recommend you first ensure that the correct items are selected on the Inventory page.
When your inventory data is correct and you still see red toners, you can either perform a bank search with "All in-stock toners" (see below) or contact your Technical Representative for acquiring the missing toners.

Bank search with only in-stock toners
If you want to find the best matches considering only the toners you have selected on the Inventory page, then select "All in-stock toners" in the "Show best-matches with" filter.
All the color matches will contain only the toners you have in stock however they might have lower color confidence.

How does bank search work?
Based on the toner selections on the Inventory page, MIXIT will start by searching the AkzoNobel database, your own colors, the own colors of your business partners (if applicable), and presents the top 11 candidates that best match the digital measurement.
If applicable, MIXIT will optimize the candidates using internal proprietary optimization engines. You can recognize the optimized formula by the light blue color in the confidence bar.