When the Instrument Manager UI is updated below message will be shown on the measurement screen.
The user then needs to click the "Update Instrument manager" button to install the update.

On some occasions, the user will then get this popup.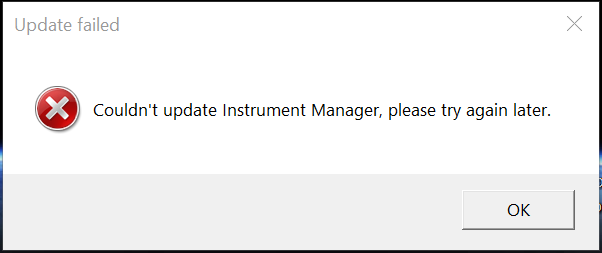 There are a few ways to solve this. First, let's check a possible reason that can block the update.
Step 1:
Open file explorer and type in the below text on the address bar:
%localappdata%/AN
Open the folder that starts with AN.MM.IM.Updater.exe... followed by a lot of characters. On my PC it looks like as shown in the below picture, but the characters may be different on your PC.

Now go ahead and delete this folder.
Step 2:
Update Instrument Manager.
Go to www.mixitcloud.com/measurements and click on the Update Instrument Manager button

This now you should see the update popup

When the update is completed Instrument Manager will start up and MIXIT will confirm it is connected to Instrument Manager.