In some instances you would like an indepth calculation of the color difference between the target color and the imitation that you just created (ie a sprayout panel, or the repaired panel).
For every mixed result that was produced with your digital spectrophotometer it is possible to start a Delta E calculation. From the Mix History a delta E calculation can be started via the

-icon in the mix.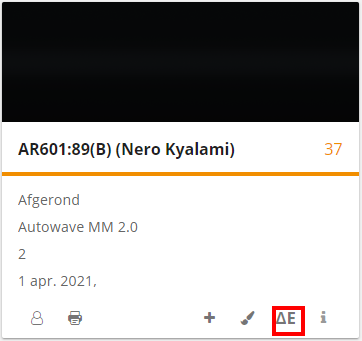 When you initiate the Delta E calculation the application will prompt you to supply a measurement of the color result. It will ask you which type of measurement it is. Is a sprayout card, or is it a panel that you have already repaired?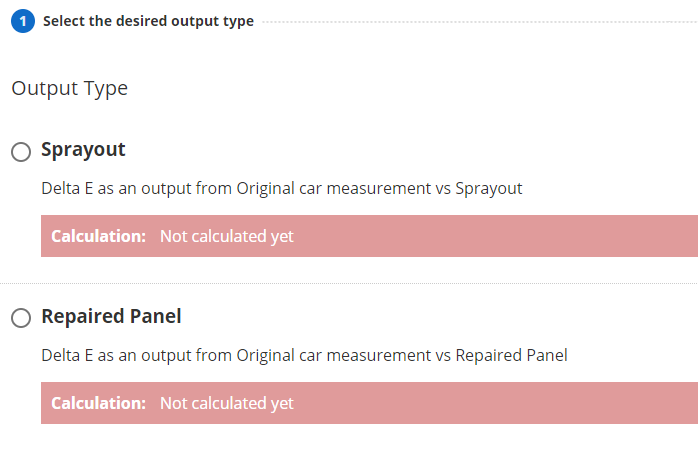 After selecting the applicable output type, press next.
Now select the measurement of the Sprayout or Repaired Panel, or if you haven't yet, please synchronize the spectrophotometer to import the measurement. In this example we will use the measured sprayout.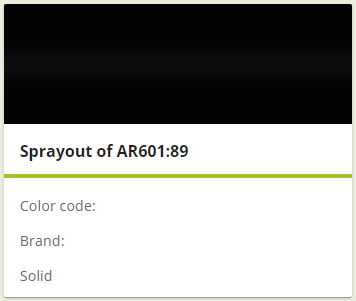 After selecting the measurement a report will be shown to list the difference between the target measurement and the measurement of the sprayout result. In this case the average Delta E over the 3 angles is 0.28

The delta E calculation can be stored with the mix with the button

From the Mix details in the Mix History screen the delta E can be viewed after clicking the Mix Information symbol.