There are different reasons that can cause the Installation of Instrument Manager to fail. In most cases, a Error code is given as a reason for the issue. Please look at the most common error codes below and follow the steps in this manual to solve the issue.
Use below links to jump directly to the error code you need to solve:
Error 0x80131047
When below error pops up while installing Instrument Manager, one or more Windows updates need to be performed prior of installing Instrument Manager. "Microsoft .Net Framework" being the most important update.
Open "Check for updates" by typing "update" in the windows search bar as shown below.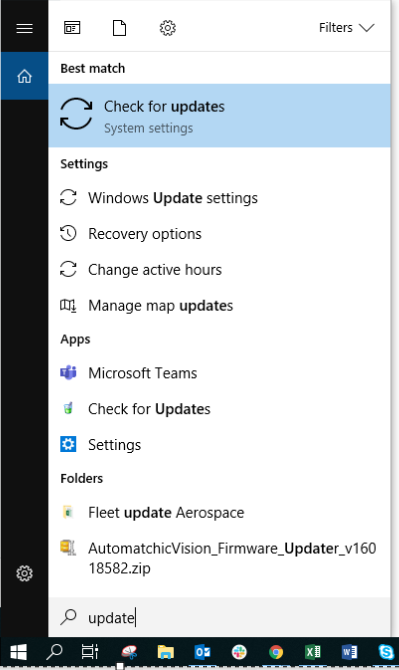 Select [download] to install all available updates, note that there is also an update for .NET Framework version 4.8 in this example (version 4.7 should also compatible with Instrument Manager).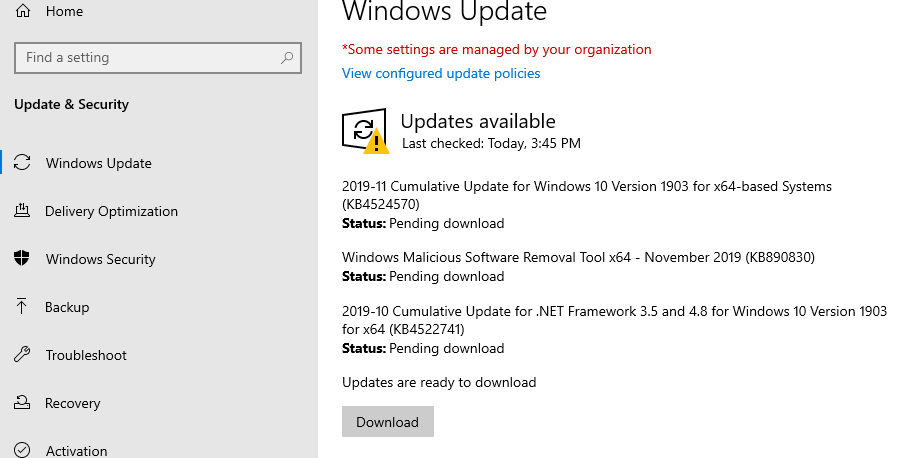 Wait until all updates are downloaded and installed (this may take some time depending on the available updates. Click on the [restart now] button when available.
Note: make sure to save and close open documents and programs before restarting the PC.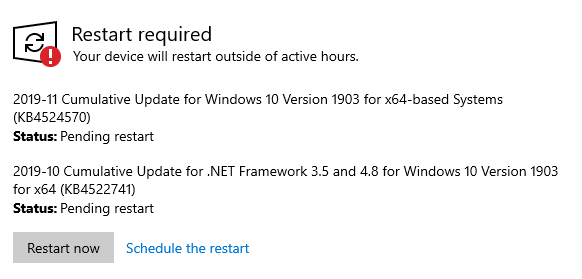 After the restart proceed with installing Instrument Manager.
Error 0x80070643
Windows' error 0x80070643 message occasionally appears after a faulty operating system or app update and can be the symptom of a variety of tech issues ranging from a computer virus or malware infection to corrupted or deleted files and even an improper shutdown.
Fortunately, there are a variety of strategies you can use to tackle this problem and get your Windows device working properly again.
The 0x80070643 error typically appears during a Windows update or an app installation.
When triggered during a Windows update, the 0x80070643 error will show up within the Update History screen after an attempted installation within the Windows Update page. It will look something like the following:
Failed to install on (date) - 0x80070643
If this error message occurs during or after an app installation or update, it will appear in a pop-up notification.
How to Fix Error 0x80070643
While the 0x80070643 error can be frustrating, there are a variety of effective ways to fix it built directly into Windows that require very little advanced knowledge to implement.
Retry the installation. Sometimes, no matter what the cause of the 0x80070643 error was, simply attempting the installation or update again will work, so it's worth trying at least once more before proceeding with any further troubleshooting.

Re-download the file. If you downloaded an update or app and it's giving you the 0x80070643 error message, the file may have become corrupted during the download process. Try downloading it again to see if that fixes the problem.

It's a good idea to delete the files you downloaded first so you don't accidentally try to install them instead of the new download.

Check your internet connection. A buggy internet connection can cause the 0x80070643 error by interrupting the download of important files and stalling an installation or update if the process requires the connection to an online server.

Close other programs. Sometimes running other programs can affect an update or installation by accessing important files and using up device resources. Try closing all open programs on your computer and quit any running in the background like Telegram, Google Chrome, or Skype.

Pause current downloads and updates. Downloading updates for other apps and software can slow your internet and affect the downloading or installation of important files. Make sure no other apps are being updated or installed and try the installation again.

Most modern Windows 10 apps are updated via the Microsoft Store app. You can view all active updates by opening the app, then select the ellipsis > Downloads and updates in the top-right corner.

Restart your computer. A basic computer restart can fix a variety of Windows issues.

If you're getting the 0x80070643 error when trying to run, install, or update a relatively old piece of software, you should also try running the Program Compatibility Troubleshooter, which can be found on the same screen as the Windows Update Troubleshooter.

Install the latest .NET Framework. A corrupted .NET Framework can cause installation and update errors in Windows, including 0x80070643. You can fix a glitch by installing the latest .NET Framework update from the official Microsoft download page.

Run the .NET Framework Repair Tool. If you have the latest .NET Framework update and you suspect it's still the cause of the 0x80070643 error, you can try downloading and running the .NET Framework Repair Tool.

Turn off your antivirus program. Antivirus programs are infamous for causing conflicts with app installation and system functions. Try turning your antivirus program off and attempting your update or install again.

Don't forget to turn your antivirus program back on after you've completed your task.

Perform an SFC scan. An SFC scan can detect and fix corrupted system files on your computer. To run a scan, open Command Prompt, type "sfc /scannow," and press Enter. Wait for the scan to complete, close Command Prompt, then try your installation or update again.

Restart Windows Installer. A glitch in the Windows Installer can often cause the 0x80070643 error, but this can be remedied by restarting it. To do this, press Windows+R, type "services.msc," then press Enter. Select Windows Installer once to highlight it, then select the Restart link to its left.

Uninstall the app. If the 0x80070643 error is happening during an app update, it could be the existing version of the app is corrupted and causing issues. A way around this is to uninstall the app, then reinstall it. When you reinstall it, the newest version should be installed so you won't need to update it.
The easiest way to uninstall an app in Windows 10 is to right-click its name in the Start Menu and select Uninstall.
Error 0x80070002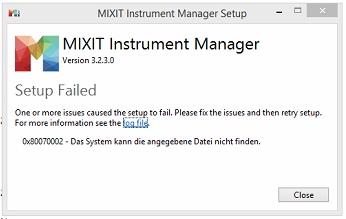 If the error "0x80070002 - The system cannot find the specified file" occurs during the installation of the Instrument Manager, the .NET Framework version installed on the system is probably too old.
You can fix this error by installing the latest .NET Framework update from the official Microsoft download page.